Jon Stewart
---
Jon Stewart rips into Mitch McConnell
over a bill to help 9/11 first responders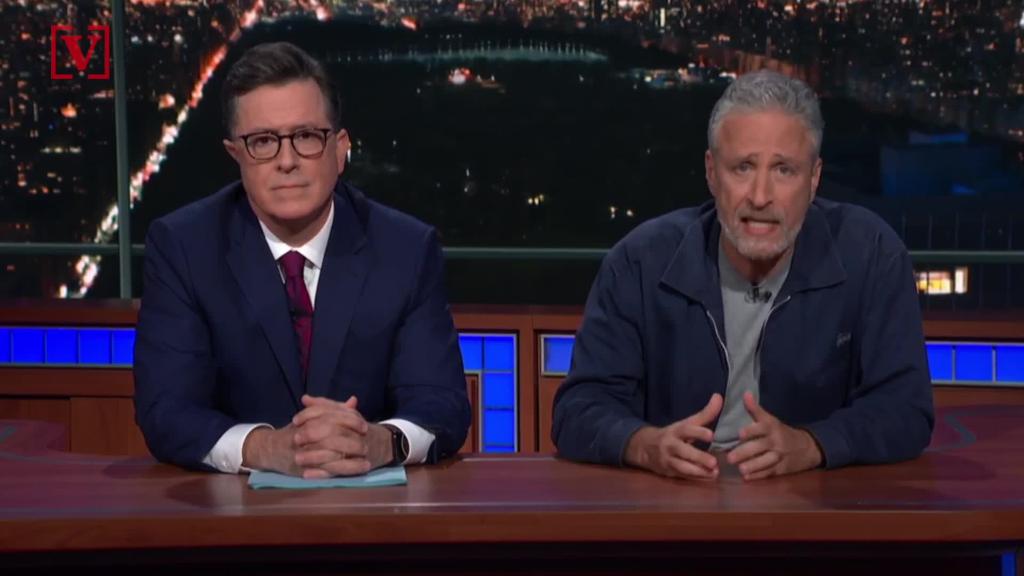 Jon Stewart blasted Mitch McConnell during a special appearance on The Late Show about his lack of action for getting 9/11 first responders help.        
Jon Stewart and Mitch
McConnell Are FEUDING!!!
Jon Stewart, the former Daily Show host, is rightfully furious about Congress not doing enough for 9/11 victims, and more specifically first responders. Senate Majority Leader Mitch McConnell, however, isn't buying Stewart's tearful testimony before the House Judiciary Committee last week. Read more...
Jon Stewart condemns Congress's failure
to help 9/11 victims as 'shameful' – live
Comedian to Congress: 'You should be ashamed of yourselves'Nancy Pelosi says Trump impeachment 'not off the table'Sign up to the US briefing and get a new perspective 6.14pm BST Here are the main political news items so far today: 5.29pm BST Jon Stewart has delivered a scathing rebuke of Congress and its handling of benefits for 9/11 first responders and victims, telling US lawmakers their inaction is "an embarrassment to the country". Stewart, who has been a forceful proponent of legislation providing federal funding for medical treatment for 9/11 survivors, testified on Tuesday alongside first responders and victims before the House judiciary committee.Shameful. It's an embarrassment to the country and it is a stain on this institution. You should be ashamed of yourselves, for those that aren't here, but you won't be. Because accountability doesn't appear to be something that occurs in this chamber." Your indifference cost these men and women their most valuable commodity — time. It's the one thing they're running out of. This should be flipped. This hearing should be flipped. These men and women should be up on that stage, and Congress should be down here answering their questions as to why this is so hard and takes so damn long." Al-Qaeda didn't shout 'death to Tribeca'. They attacked America. And these men and women, and their response to it, is what brought our country back. It's what gave our reeling nation a solid foundation to stand back upon ... And you are ignoring them." Continue reading...
Tearful Jon Stewart finds congress
'empty' during 9/11 victims' fund talks

US comedian and broadcaster Jon Stewart has attacked a "near-empty" congress after members failed to show up to a hearing on renewing funding for the healthcare of 9/11 first responders.
Angry Jon Stewart pushes
lawmakers to extend 9/11 victims fund
Comedian and actor Jon Stewart joined a group of Sept. 11 first responders on Capitol Hill on Tuesday to push lawmakers to vote in favor of legislation replenishing the September 11th Victim Compensation Fund.
Jon Stewart shames lawmakers for not
showing up to 9/11 victims fund hearing
​WASHINGTON – ​Former "The Daily Show" host Jon Stewart shamed ​members of a House panel Tuesday when only five lawmakers were seated in the rostrum to hear survivors of the Sept. 11 terror attacks testify about the need to reauthorize the 9/11 Victim Compensation Fund. "As I sit here today, I can't help but think...
More GOP senators support 9/11
victims fund bill after Jon Stewart shaming
Two additional GOP senators signaled their support for 9/11 Victims Fund bill on Thursday following Jon Stewart's shaming of lawmakers who were not present for testimony from 9/11 first responders at a Judiciary subcommittee hearing earlier this week, The Post has learned. Sen. John Hoeven (R-N.D.) plans to co-sponsor a bill to replenish the 9/11...
McConnell agrees to meet with 9/11 first
responders after Jon Stewart's urging: report
Sen. Mitch McConnell has plans to meet with 9/11 first responders on Tuesday in wake of the recent public tussle with Jon Stewart that culminated last Monday on Fox News when the Kentucky senator asked why Stewart was "bent out of shape."
Jon Stewart rips McConnell over
no compassion for 9/11 responders
Jon Stewart ripped Mitch McConnell on Sunday, saying the Senate Majority Leader has never acted with compassion when it comes to securing health-care funding for 9/11 first-responders. Fresh off his blistering testimony in front of a House panel, the former "The Daily Show" TV host was asked on "Fox News Sunday" about getting an expansion...
He sat next to Jon Stewart to fight for
the 9/11 victims fund. Now he's in hospice.
Luis Alvarez, a former NYPD detective, implored lawmakers to extend the fund in his final interview.